Flows, Business Process Automation, and Migration from Process Builder and Workflows
What's Going On with Salesforce's Process Builder and Flow?
To understand what's happening with Process Builder and Flow, we have to go back a few years to when Salesforce, with the goal of automating tasks and making our lives easier, created Workflows and later improved them with Process Builder. In our 2018 blog post, we told you all about it.
As you already know, Process Builder is a Salesforce tool that allows you to create a series of automatic actions that are executed when a determined action occurs.
Right now, history is repeating itself. After identifying certain problems and not meeting user expectations, the American CRM company has decided to substitute Flow for Process Builder.
Does this mean that Process Builder is going to disappear? Well, no. The tool will remain active, but after 2023, no new functions will be introduced; you won't be able to create new automations nor security improvements. Therefore, speaking practically, it will be as if it were deactivated.
So the countdown begins: all companies that have their Workflow and Process Builder automations must switch them to Flow before 2023.
What is Salesforce Flow?
Flow is very similar to Process Builder but better in practically every area, given that it offers much more interesting settings and options. We can sum it up like this: it's an application that allows you to automate complex processes and favor declarative programming (without coding). This means that we're multiplying the development speed by eight with this tool when compared to traditional development methods like Lightning Web Components and Apex. It also helps Salesforce administrators complete tasks more efficiently, in less time, and with more precision.
Process Builder vs. Flow: the battle has a winner
With Flow, we can create multiple workflows easily and substitute what was being done in Workflow or Process Builder, no matter how complex. Therefore, we're not far from the moment in which Flow will be the only tool used by Salesforce administrators to automate all processes.
How to Transition from Process Builder to Flow
To update the automatic actions and transition towards the Flow model, there are two options:
1. Automatic Migration
There are Salesforce tools that allow you to automatically migrate to Flow. However, this option presents a few problems:
The tools can be incompatible

with some of the automatic actions created in Workflows or Process Builder. Therefore, it won't work in all cases and might require manual work by an expert, for both olds tools and current Flow capacities.

All system automations from one system or another will be automatically migrated

without taking its efficiency

or limits into account, losing the opportunity to unify and clean up the automation. This can seriously endanger the tool's performance.

The

migration tools are currently available as Beta

, meaning that the client is responsible for any error that happens during migration.
Therefore, we believe the automatic migration tool isn't ideal for the 2023 deadline we face with the migration from Workflow and Process Builder.
1. Manual Migration
Manually transitioning to Flow offers interesting advantages:
Reduces technological weight:

this means that it can clean and improve the code, ensuring that the Flows from the migration meet Salesforce best practices and are executed within the established limits.

Improves future maintenance

: everything is more organized and unified, which makes future maintenance easier.

Allows for process unification and automation

: everything lies within one tool that optimizes processes and performance.

Increases execution efficiency and improves performance:

the created flows work better and quicker than those that are generated through the automatic migration tool.

Allows for scalability

: it will be a system that's compatible with future Salesforce updates.
In addition, when the manual migration is done, we can ensure that we've created a coherent automation strategy that's focused on just one platform. It's important to focus on it given that, if we're using various solutions, we could find some incompatibility; this can lead to problems in the future.
Advantages of Automating your Process with Us
If you're not sure how to do it or where to start your transition to Flow, Leadclic can help you. Here's three reasons why:
We train Flow users at Leadclic College

, where we show Salesforce professionals how to make the most out of the tool. The Flows training is just one part of the program.

We're already migrating projects to Flow

. As 2023 draws closer and Process Builder and Workflows will stop working, many companies are already transferring their automations to Flow with our help.

We are

Salesforce Partners in Spain

and unconditional fans of automation, flows, and the Salesforce standard.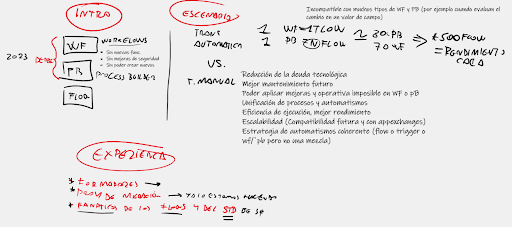 Free CRM Guide!
Everything you need to know about the CRM universe and how to make the most of this tool for your project. Our experts give you the keys
Download now