Landing Page Builder: design your own, personalized LPs quickly
Salesforce's 2022 Spring Release has brought many updates in areas like Experience Cloud. Within Pardot, there's good news as well; they've announced a series of changes in the Enhanced Landing Page Experience to expand functionalities and facilitate the creation of Landing Pages with Pardot.
Just like with what happened with Pardot Email Experience, those that use the new version of Landing Page Builder will be able to directly personalize their forms from the page, including script codes like those from Google Analytics and create a simple, responsive landing page with the possibility of adding blocks of content.
There are now two ways within Pardot to create LPs: one that is created with a HTML code and requires assistance from UX/development departments and the new drag & drop functionality that helps us create simple and quick LPs in little time. So what advantages does Salesforce Landing Page Builder have for marketing departments? Let's check it out.
How Pardot's Tool Helps Landing Page Creation
Agile processes are something that is highly valued in digital marketing teams. These new functionalities provide more autonomy when it comes to creating and launching a Landing Page; it allows you to do it yourself without having to ask for help from a developer. The drag & drop system makes the process much easier.
Without knowing anything about coding, we can create a traceable, high-quality, and personalizable LP. And, in addition, we can also personalize the URL to redirect the LPs that we want to eliminate. The process of building a landing page is now more intuitive and simple than ever before, thanks to these updates. If you work in digital marketing, check out our guide below on how to use these new components.
How to Implement the New Functions in the Landing Page Builder
Edit Forms
Let's use practical examples to see how we can use the tool. Enter Landing Page Builder, add the form component, and choose what form we want to show in the LP.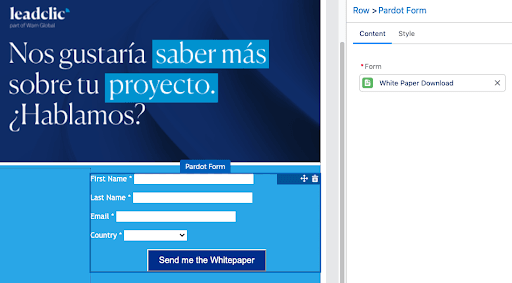 If you click on "Style", you can now make various design and field changes to personalize the form so that it perfectly adapts to what you need.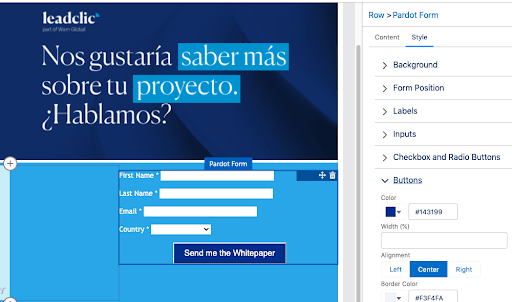 It's important to keep in mind that when we modify a form, it changes only on this landing page; the rest of the landing pages that use the same form don't change. On the other hand, if we change the original style of the form, it will change all the LPs that use said form.
Personalize URLs
With the newly announced updates of the latest Salesforce Release, we can publish and delete Landing Pages as we like. And, when we delete a LP, we can redirect the URL to a new URL. We'll just need to add a new URL in the field "Unpublished Redirect URL."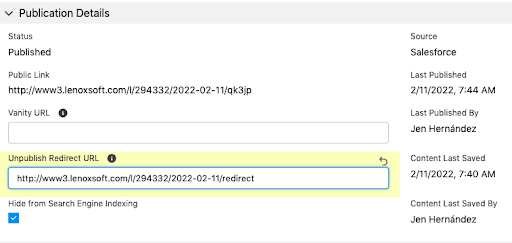 This function gives the SEO team the ability to ensure that old LPs, if they continue to appear in Google, don't lead users to an error page. Keep in mind that if the redirect option isn't shown on the page, you can request that it appears on your builder from your administrator.
Use Script Code
The new functions of the Enhanced Landing Page Experience improves data tracing. We can add script code like that of Google Analytics very easily:
Access the LP where you want to add script

Place the script in the Header Code or Footer code field

Click "Add" in the area where you want to add the script, paste it, and click "save."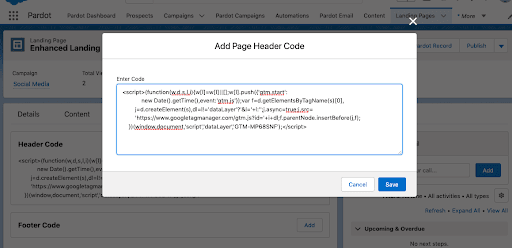 It's ready!
Just like with redirections, if this option isn't shown on the page, request that your administrator incorporate these fields so you can freely use it.
Use Row Layouts and Predefined Columns
One of the newest and most interesting components of the predefined layouts is that you can add the general layout of the Landing Page. You just have to select the layout in the left hand side of the screen and drag it to the general layout, placing it wherever you'd like.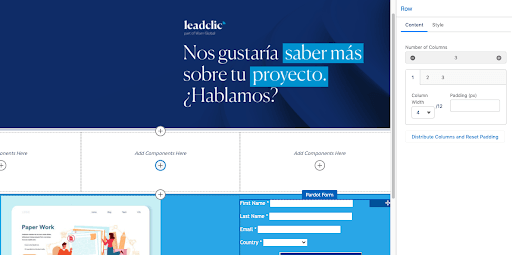 Another option is to click on the plus sign of each row and, once it's added, make the necessary adjustments on the right hand side.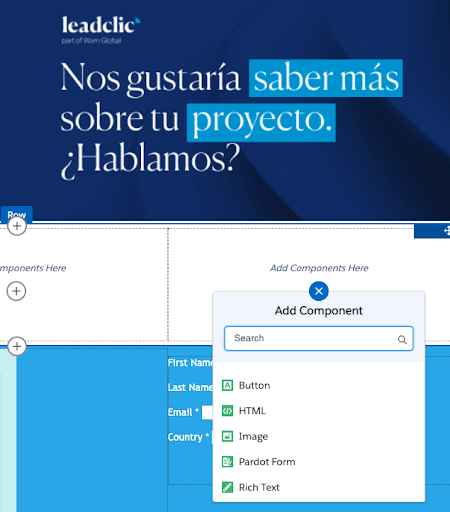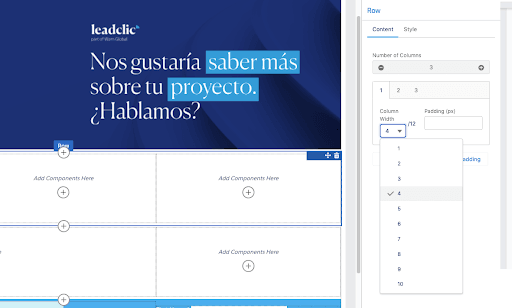 Don't forget that, at least for now, Pardot doesn't allow you to save layouts to use them on other Landing Pages. If you want to personalize the predetermined templates, you have to edit them each time.
A Summary of the Most Important Points
Landing Page Builder evolves with time and the latest announced improvements dive deeper into the tool's accessibility for digital marketing professionals. With this kind of LPs, created with drag & drop, it's much easier to launch a lead acquisition page before an event, webinar, workshop, and more. The two options coexist and, depending on the time and abilities of the team, we can also create more elaborate landing pages with the help of developers.
We'll keep an eye out for new Salesforce updates, but this is, without a doubt, a big step forward for the autonomy of marketing professionals.
More information:
Free CRM Guide!
Everything you need to know about the CRM universe and how to make the most of this tool for your project. Our experts give you the keys
Download now