Experience Cloud Updates: connect your sites with your marketing platform to nurture leads
Salesforce Spring Release 2022 is full of good news. Salesforce is continuing its creation of new components, elements, and applications that improve the functionality of its clouds and are updated according to market needs. The goal is always the same: offer an optimized experience to clients and empower companies to design and execute the most brilliant strategies.
Within the wide range of updates from the latest release, there's one that's especially useful. Marketing teams need technological support to design successful strategies. A fundamental aspect of this is contact with the leads that is collected through diverse channels; one of them is website forms. Salesforce has launched a new component that makes our job easier.
What is the New Component of Experience Cloud?
Experience Cloud has incorporated a new component that allows microsites created with this tool to add forms that directly communicate the information to a data extension that is saved in Marketing Cloud. This way, both clouds (Experience Cloud and Marketing Cloud) are integrated and lead acquisition is automated, saving management both time and resources.
This component can only be used in LWR sites and when the company has acquired Salesforce CMS + Marketing Cloud. In this case, the option to include Marketing Cloud Form in your builder will appear automatically.
How Does this Component Help Users?
The key is that today it's much easier to share information between the Salesforce Experience Cloud and Marketing Cloud. Here's an example: we include a form with this component in our page. When a lead fills in their information and clicks the "send" button, this information doesn't just stay in Experience Cloud; it's also registered in the marketing cloud so that we can count on this lead for future emails, campaigns, and other actions.
The integration of both clouds is developed automatically; we don't need to ask a developer to set it up for us. It's a very simple click & point system; its main achievement is that it helps us save time to invest said time in tasks with a higher added value.
How do I Activate the Component in my Forms?
Here's the simple process, step by step. First, from Experience Builder, choose where you want to place your next form. When you have the space selected, add a component but instead of "Lead Form" choose "Marketing Cloud Form."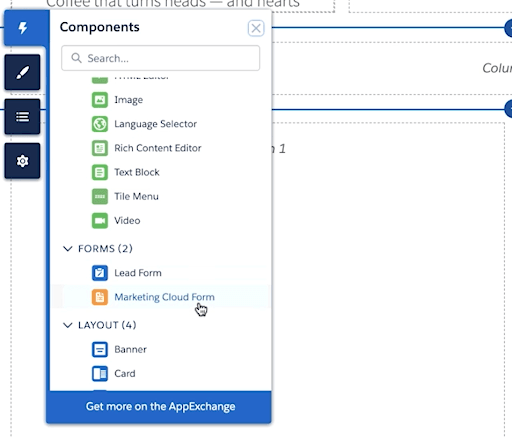 Once you have the component on your page, click to set it up. First, choose what information you want to include in the form. Then it's time to create the data extension in Marketing Cloud that will store the data from this form. Simply name the data extension and include your Marketing Cloud identifier.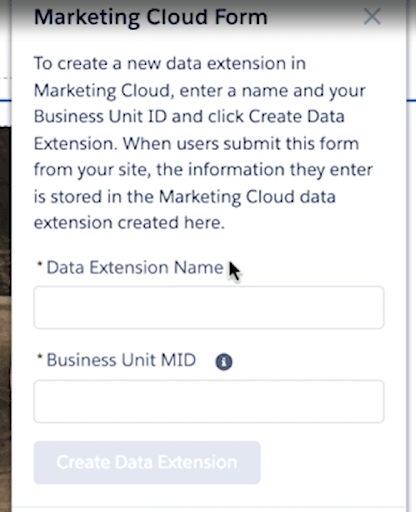 Once it's completed, you have to click the "Create Data Extension" button and it will be ready! To check it, we can go to our marketing cloud and see that, effectively, this new extension appeared where the data the form collected will be saved.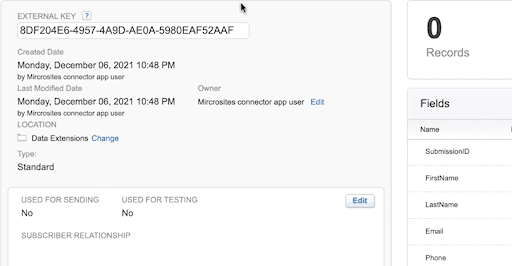 Conclusions
The latest release has excited Experience Cloud and Marketing Cloud users and this is one of the most important updates. Now we have a new component that connects our building with our marketing tool, facilitating the collection of information to be able to create much more successful actions. In addition, this component gives autonomy to marketing sector professionals, who will no longer have to depend on developers to be able to run a simple setup.
At Leadclic, we're here to help you implement and adopt Salesforce ecosystem solutions; encourage your team and give them the right tools so they can achieve excellent results.
- Experience Cloud: Microsites Enhancements
- Build Better Microsites with the Marketing Cloud Form Component (Generally Available)
Free CRM Guide!
Everything you need to know about the CRM universe and how to make the most of this tool for your project. Our experts give you the keys
Download now